Protect Your Family With A Monitored Seattle Carbon Monoxide Detector 24-7 Defense Against Deadly Carbon Monoxide Leaks.
Protect Against the Unseen Enemy With A Seattle Carbon Monoxide Detector
Carbon monoxide leaks are hard to detect. The clear and scentless gas might escape from various gas-powered appliances like HVAC systems. A built-up CO leak can be dangerous and may result in fatigue, shortness of breath, and even death.
Fortunately, a monitored Seattle carbon monoxide detector will notify you when there is any indication of CO accumulating. The detector stays active at all times and works just like your smoke alarm systems, meaning that it will sound a high decibel alarm once tripped. It will also send a notification to your phone and your 24-7 monitoring professionals so you can evacuate the area before first responders arrive.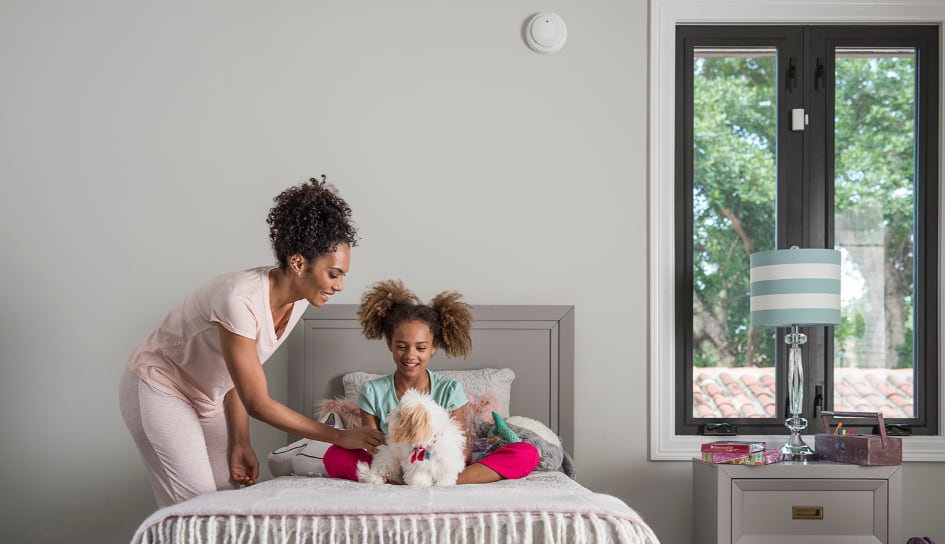 Why Get A Monitored CO Detector in Seattle?
Carbon monoxide is nearly impossible to detect on your own. With that being said, your ADT-monitored CO alarm in Seattle is the best way to catch this dangerous gas before it puts your family at risk. Here's what you should know:
Electrochemical sensing for carbon monoxide: Identify CO at lower levels, so help arrives to your house in a hurry.

High-decibel alarm with clear LED display lights: When the detector finds a dangerous amount of CO within the house, your system will sound a high-decibel alarm so you are fully aware of the danger. You can also check the status of the alarm with LED indicator lights.

Get notified regardless of your location: A carbon monoxide leak can occur whether you're home or not. As soon as your device recognizes hazardous levels, a notification will ring on your phone. You will be aware of the situation no matter where you are.

ADT's 24-hour monitoring reacts swiftly to CO detection: When your CO unit identify unsafe concentrations, they immediately contact you and your ADT team. Your monitoring professionals will notify emergency professionals without delay while you focus on your family's safety.
Sync Your Seattle CO Detectors With Your Home Automation System for Extra Safety
Your monitored CO devices are just one part of your Seattle home security system. When you connect your carbon monoxide detectors to your overall security and home automation system, your whole home can react to dangerous CO leaks. Here are just some things you can do with your advanced technology and the ADP smartphone app:
Get immediate notifications sent to your phone in the event of smoke or fire.

Smart locks open automatically for first responders.

Activate your HVAC fan from a distance to vent the CO gas buildup.

Inspect live video footage to determine if family and pets are clear of danger.

Maintain open communications with ADT staff through your phone's ADT Control app.
Get Started on the Latest in CO Detection With A No-Obligation Quote
Get your Seattle residential security system with CO detectors today when you contact Secure24 Alarm Systems. We'll explain the available options and assist you in finding the most suitable plan for your home. Simply dial (206) 451-1051 or fill out the form below for your free quote.